Morinaga HRB Probiotics
B. breve

B-3
B-3: Weight Management Probiotics
Bifidobacterium breve B-3 is an unique probiotic strain developed by focusing on the relationship between gut microbiota and metabolic syndrome. B-3 possesses an attractive effect in maintaining healthy body weight and ultimately improving one's lifestyle.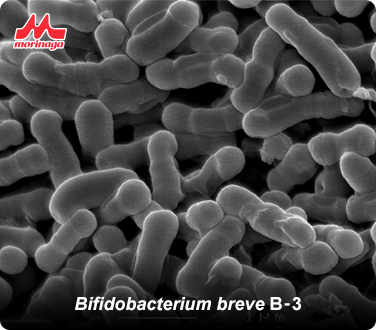 Human-Residential

Bifidobacterium

(Isolated from infant in 2002)
Evidence-Based Safety

(Genomic, toxicological, and clinical studies)
Scientifically Backed Probiotics

(Supported by scientific studies)
Quality Assured

(FSSC22000, HALAL, Kosher)
Accumulating evidence suggests an association between gut microbiota and the development of obesity, raising the possibility of probiotics administration as a therapeutic approach. B-3 is an unique bifidobacterial strain that was selected for its potential in weight management.
Legislation can be varied by country when it comes to specific dosage and potential health claims of each strain.
Our regulatory team can help and advise you as to the appropriate individual markets permit. Morinaga Milk's global regulatory experts are located in all major regions. We are committed to deliver expert advice and practical solutions in order to optimize your company's success.